Cabinetry creations, repairs, renovations of various kinds are welcome. Most media studio clients know what they want and need. Finding the right team to handle your radio station studio cabinetry, desktop needs, and a familiarity with the appropriate materials can be the biggest hurdle. Allowing the customer to describe what they want, finding a way to make it happen are the professional cabinet maker promises at Tulsa Cabinet Guy. Your custom studio cabinets have the assurance of our dedication to a time-honored cabinetry trade and pride in craftsmanship!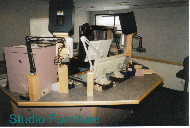 Radio, Television Studio Furniture, like the TCG project above require expertise and familiarity with the industry. Tulsa Cabinet Guy has built studio cabinets and furniture for radio stations converting to digital equipment and made happy DJs by honoring exacting specifications!

Ask to see examples of our Fireplace Mantles and Surrounds, Custom Furniture, Office Furniture, etc.
We even build Pet Furniture for the four-legged family members with craftsmanship needs unique to them!